Skin is the body's largest organ and it also keeps our other organs secure but some health conditions directly affect it. It is very important to make our skin smooth and clear. Some of these conditions are pretty common, while others might be less familiar. Many skin conditions might persist for the duration of one's life. Some may start while they are young and go on into adulthood. In certain circumstances, the symptoms don't always exist but only manifest themselves occasionally. In this blog, we have mentioned the skin conditions you should know about.
Skin Conditions to Know About:
In the under section, we have mentioned some common skin conditions you should must know:
Acne
The most well-known skin problem, which affects people of all ages, is probably acne. Acne, blackheads, and whiteheads are the results of oil and dead skin cells clogging hair follicles. Acne can be caused by hormonal fluctuations, genetics, and lifestyle choices. To control it, practice good skincare habits, refrain from popping your pimples, and think about using over-the-counter or prescription medications.
Eczema
A series of skin conditions known as eczema or dermatitis create itchy, red, and inflamed skin. Allergens, irritants, a compromised skin barrier, heredity, or other factors might cause this illness to manifest. Eczema symptoms can be controlled by using gentle cleansers, moisturizing frequently, and recognizing and avoiding triggers.
Psoriasis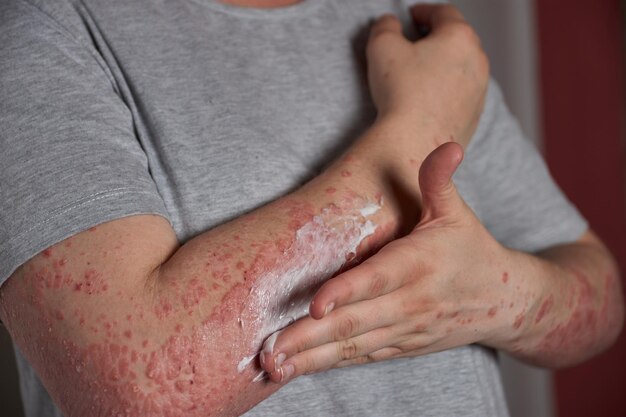 A long-term inflammatory disorder called psoriasis causes thick, flaming skin patches covered in scales. Although the precise origin is unknown, environmental, immunological, and genetic factors may all have a role. Topical creams, light therapy, and systemic drugs are among forms of treatment.
Rosacea
Rosacea is a skin disorder that mostly affects the face and results in redness, visible blood vessels, and lumps that resemble pimples. Sun exposure, spicy foods, and alcohol are examples of triggers. Rosacea can be treated with gentle skincare products, sun protection, and occasionally prescription drugs.
Hives (Urticaria)
Hives are itchiness and raised welts on the skin that infections, stress, allergies, or drugs can bring on. Antihistamines can provide relief for allergy symptoms which usually resolve on their own.
Warts
Small, non-cancerous growths known as warts are brought on by the human papillomavirus (HPV). They can manifest anywhere on the body and either go away on their own or call for medical attention.
Shingles
The varicella-zoster virus, which also causes chickenpox, is responsible for the viral infection known as shingles. A painful, blistering rash is the result, and it usually appears on one side of the body. There is a vaccine for shingles that can help prevent this disease, especially in older persons.
Cold Sores (Fever Blisters)
Small blisters known as cold sores, which are brought on by the herpes simplex virus, develop on or around the lips. They can be brought on by stress, sunlight, and illness, and they frequently recur. Antiviral drugs can be used to control and stop epidemics.
Athlete's Foot
Itching, redness, and peeling skin are common symptoms of athlete's foot, a fungal infection that typically affects the feet. It is very contagious in warm, humid settings like locker rooms and swimming pools. Antifungal over-the-counter medications can typically cure it.
Skin Cancer
There are three main types of skin cancer: basal cell carcinoma, squamous cell carcinoma, and melanoma. Early detection is key, so routine skin checks and sun protection are crucial in preventing and managing skin cancer. Skin cancer can be fatal and is frequently brought on by prolonged sun exposure and UV radiation.
Preventing Skin Conditions
The best course of action is always to prevent skin disorders. Here are some general pointers to help maintain the health of your skin:
Some people spend their time in friends and family and avoid drinking and eat healthy food so make a good meal schedule.
When spending time outside, don caps, protective clothes, and sunscreen with a minimum SPF of 30.
Use a mild, hypoallergenic moisturizer to keep your skin hydrated, and consider eating a balanced diet that includes lots of fruits, vegetables, and water.
Numerous skin disorders might become worse with high amounts of stress. Use stress-reduction methods like yoga and meditation.
Apply gentle, fragrance-free skincare products sparingly, and steer clear of harsh rubbing that might irritate your skin.
If you have a known skin condition, learn what triggers it is and stay away from them.
Conclusion
Anyone can develop a skin problem, and the reasons and symptoms differ greatly. Understanding these disorders and how to successfully prevent or manage them is crucial. You may maintain healthy, bright skin free from the majority of common skin conditions by adopting a solid skincare regimen, protecting yourself from the sun, and getting professional assistance when necessary. Taking proper care of your skin is crucial for your general health and self-confidence because it is a reflection of your general well-being.